SHOPgirl Wish List


SkinnyPants to the Rescue
Forget Sisterhood of the Traveling Pants —
these are the Real Deal!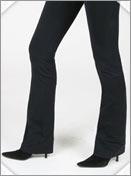 Do you have that one pair of pants — maybe they're jeans or a simple black pair — that you just know would look awesome on you... if you lost just 5 pounds? Well, imagine you had that perfect pair of pants that looked fantastic any day of the month. Now your dreams can become a reality! SkinnyPants is the brainchild of Catherine Hart. They're specially-engineered pants made of a custom nylon-spandex-polyamide-elastane blend of fabrics. High-tech, durable, bi-stretch, non-shriking, non-fading, washable and breathable, they come in five different styles. The Katwalk ($90) are elegant, boot-cut, no-pocket, versatile pants you can dress up or down. And the K-Two ($65) are ideal for the gym — or a night out dancing! There are also capri and denim styles, as well as slimming tops, skirts and dresses. Losing inches has never been so easy. Go to http://www.skinnypants.com and order yours now!






New York, NY 10021 Toll-free1-866-9HOTFIT
SkinnyJeans.com © 2005 SkinnyPants.com © 2003
CustomerService@Skinnypants.com
Illustrations by Louise A. Masano
Shop  |  Cart  |  Home  |  About Us  |  Press | Contact Us | Testimonials | Privacy  |   Returns  |   Check-Out